Granma (baseball)
Cuban Baseball
Team
Granma Alazanes
League
Cuban National Series
Season
2016-2017
Final Result
Champion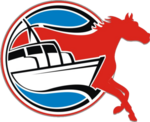 |
Granma Alazanes is a baseball team in the Cuban National Series, based in the eastern province of Granma. Until the 2016-2017 season The Alazanes were a frequent contender, but had never advanced to a National Series final, however in 2017 Granma not only made it to the Cuban National Series final,[1] but swept Ciego de Ávila to win the series,[2][3] breaking a 40 year record of being seen as underdogs who could not compete with dominant powerhouse teams.[4]
The team's nickname is the "Alazanes," which refers to horses which have sorrel hair.[5]
History
Early Days
Granma first appeared in the XVII Cuban National Series of Baseball during the 1977-1978 season, ending in 11th place in the inaugural season.
Agustín Arias played with the team for a short-term prior to his retirement, which a time of relative success for the team, but after his retirement the team become known as a mediocre team, often having a losing (below .500) season record.
The Landing of the Sorrel
Granma's history of losing was about to change, starting in the 1986-1987 season, and by 1988-1989, Granma made it to its first postseason, ending in third place.
But consistenecy continued to be a problem with Granma reaching the playoffs in 1989-1990, 1991-1992 and 1999-2000, but also having many losing regular season records.
Significant Granma pitchers in this era included Ernesto Guevara Ramos, Ciro Silvino Licea, Alfredo Fonseca, Manuel Vega Tamayo and Misael López Moreno. Offensively, star Granma players included Pedro Mora, Hermes Ortega, Marcos Naranjo and the brothers Valerio, Santiago and Victor Vicente Bejerano Morales.
21st Century Performance
Granam continued to build in the first decade of the new century, making playoff appearances in 2001, 2003, 2004, 2005 and 2006, but then went through a downcycle of not appearing in the Series playoffs again until 2011, with appearances in 2012, 2015 and 2016.
Finally in 2017, despite negative predictions by many commentators, Granma won the Cuban National Series, sweeping Ciego de Avila in four. Team manager Carlos Marti Santos dedicated the win to the memory of Fidel Castro and to the Granma fans. Alfredo Despaigne Rodriguez (Olympic medalist and player in Japanese and Mexican league baseball) said that the Series win was the greatest moment of his life in baseball.[6]
See 2016-2017 Season – Granma (baseball)
Management
Granma has been managed by Carlos Marti Santos for 29 of the 40 seasons of the team's existence (1977-1997, 1998-2005, 2007–2008 and 2014-2017). Others managers have included Arnaldo Iznaga, Ramón Rodríguez, Marcos Fonseca, Osvaldo Avilés, Ángel Ortega, and Indalecio Alejandrez.[7]
2016-2017 roster[8]
Pitchers
| Number | Name | Bats | Throws | Age | Height (m) | Weight (kg) | Place of Birth |
| --- | --- | --- | --- | --- | --- | --- | --- |
| 51 | Yoalkis Cruz Rondon | R | R | 37 | 1.90 | 91 | Las Tunas |
| 42 | Migue Lahera Betancou | R | R | 32 | 1.92 | 120 | Artemisa |
| 84 | Leorisbel Sanchez Hndez | L | R | 32 | 1.72 | 68 | Cienfuegos |
| 79 | Lázaro Blanco Matos | R | R | 30 | 1.93 | 91 | Granma |
| 49 | Jose Armando PeÑa Rodriguez | R | R | 30 | 1.92 | 80 | Granma |
| 37 | Juan Ramon Olivera Verdeci | R | R | 28 | 1.80 | 96 | Granma |
| 56 | Erluis Blanco Reyes | R | R | 27 | 1.72 | 86 | Granma |
| 35 | Maidel NéÑez Morales | R | R | 23 | 1.84 | 83 | Granma |
| 9 | César García Rondón | R | R | 25 | 1.76 | 70 | Granma |
| 99 | Edgar Escobar Noris | R | R | 20 | 1.90 | 91 | Granma |
| 19 | Adriel Moreno Rondón | L | L | 26 | 1.77 | 86 | Granma |
| 48 | Jorge Torres Aguilar | L | L | 22 | 1.82 | 74 | Granma |
| 94 | Andri Aguila Castro | R | R | 23 | 1.69 | 60 | Granma |
| 71 | Leandro Martinez Figuer | R | R | 36 | 1.76 | 90 | Granma |
| 19 | Yanier Gonzalez Rdguez | R | R | 36 | 1.80 | 100 | Granma |
| | Yosvany Garcia Correa | R | R | 27 | 1.80 | 85 | Granma |
| | Carlos Santana Satiest | R | R | 27 | 1.80 | 85 | Granma |
Catchers
| Number | Name | Bats | Throws | Age | Height (m) | Weight (kg) | Place of Birth |
| --- | --- | --- | --- | --- | --- | --- | --- |
| 45 | Frank C. Morejon Reyes | R | R | 30 | 1.76 | 90 | La Habana |
| 20 | Edilberto Mendoza Pino | R | R | 30 | 1.77 | 91 | Granma |
Infielders
| Number | Name | Bats | Throws | Age | Height (m) | Weight (kg) | Place of Birth |
| --- | --- | --- | --- | --- | --- | --- | --- |
| 21 | Guillermo Avilés Difurnot | L | R | 24 | 1.83 | 87 | Granma |
| 5 | Carlos Benítez Pérez | R | R | 30 | 1.74 | 91 | Granma |
| 24 | Lázaro Cedeño González | R | R | 30 | 1.82 | 96 | Granma |
| 52 | Osvaldo Abreu Sánchez | R | R | 27 | 1.72 | 70 | Granma |
| 46 | Marcos Luis Fonseca Alcea | R | R | 30 | 1.81 | 76 | Granma |
| 66 | Yulián Rafael Milán Santos | R | R | 32 | 1.71 | 73 | Granma |
| 6 | Héctor Árias Batista | R | R | 23 | 1.69 | 83 | Granma |
| 2 | Wilfredo Sanchez Rosales | R | R | 31 | 1.74 | 80 | Granma |
Outfielders
| Number | Name | Bats | Throws | Age | Height (m) | Weight (kg) | Place of Birth |
| --- | --- | --- | --- | --- | --- | --- | --- |
| 27 | Dennis Laza Spencer | R | R | 32 | 1.77 | 84 | Mayabeque |
| 1 | Roel Santos Martínez | L | R | 29 | 1.72 | 78 | Granma |
| 22 | Alesquemer Sanchez Sanchez | R | R | 22 | 1.78 | 70 | Granma |
| 18 | Raico Santos Almeida | L | L | 23 | 1.74 | 87 | Granma |
| 54 | Alfredo Despaigne Rodriguez | R | R | 30 | 1.75 | 104 | Santiago de Cuba |
| 51 | Yoelkis Cespedes Maceo | R | R | 19 | 1.85 | 90 | Granma |
| | Leosdani Batista Granda | R | R | 27 | 1.80 | 85 | Granma |
| | Juan M. Benitez Tamayo | R | R | 27 | 1.80 | 85 | Granma |
| | Darien Garcia Figuered | R | R | 27 | 1.80 | 85 | Granma |
Notable players
References